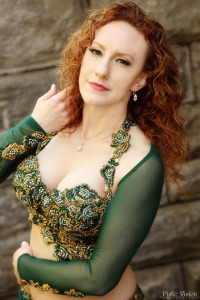 Katrina has been inspired by all forms of dance since childhood, but became fully enchanted with Middle Eastern music in college and found her artistic home in Raqs Sharqi. The intricacy of Middle Eastern music and the strength coupled with the softness of the movement captured Katrina's heart. Her love affair with belly dance is such that she finds tremendous fulfillment in sharing this joyful art with others, both as a performer and as a teacher. Katrina is an award-winning dancer and is honored to have studied and performed in Cairo and Luxor, Egypt. Katrina is now based in Pretoria, South Africa.
Teacher
Katrina has been teaching classes and directing student troupes since 2008. She was most recently on faculty at Born 2 Dance in Vienna, VA where she taught weekly classes and directed the award-winning "Nehma" dance troupe. As an instructor, Katrina is generous with her knowledge, striving to ensure all students are challenged and experience joy in their dance. Her reputation is that of a talented dancer with a genuine gift for connecting with her students. Her workshops at dance events in North Carolina, Virginia, Delaware and Pennsylvania contribute to her regional acclaim.
In the 7 years that I have been dancing, I have had many instructors and attended many workshops, but, for me, Katrina remains one of the most inspirational and effective instructors that I have ever had." – Anna Marie, Arlington, VA
Performer
~ A favorite dancer in the Washington, DC-area restaurants and nightclubs, Katrina performs monthly at a variety of venues. A typical performance set includes Egyptian classical, modern pop, drum solo, taqsim, Beledi and Saidi. Her classical, authentic repertoire makes her a very popular addition to traditional Middle Eastern weddings and celebrations. She is skilled with veil/double veil, shemedan, zills, double stick, candle tray, sword and raqs assaya (cane).
~ Katrina is the 2014 Grand Champion in the Oriental Pro category, 2nd runner up in the Drum Solo category, and 1st runner up in the Troupe category at the "Jewels of the Orient" festival.
~ She was also the 2012 Diva Solo winner at the "Viva La Diva Competition" – this category is improvisational belly dance with a live band and the dancer doesn't know the music until she steps onto the stage.
I swear you are such a kind genuine person and that spirit emotes even in your dance – what a beauty to watch!!" Rashida, Washington, DC
Student
Ever the consummate student, Katrina travels to Egypt and beyond to study with master instructors and performers. She feels privileged to have studied extensively with legendary s dancers from Egypt and the US, including: Mahmoud Reda, Yousry Sharif, Farida Fahmy, Randa Kamel, Camelia, Tito, Aida Nour, Faten Salama, Aziza, and her mentors Sahra Saeeda and Bozenka.
Katrina is certified by Sahra Saeeda in "Cairo Style 4 (Oum Koultoum), 5 (Golden Age), 6 (Saidi), 7 (Beledi), and 8 (Tarab)", as well as Journey through Egypt 1 – 4, which includes a 2-week intensive study in Egypt. She has also completed Faten Salama's Al Massraweay: The Real Egyptian Certification.
---
Contact Katrina: